New affordable Haswing trolling motors now available from L&B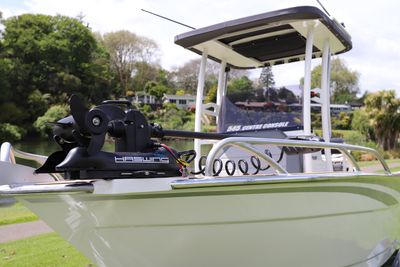 The new Haswing Cayman Bow Mount electric trolling motor, described as "the best value bang-for-buck" trolling motor on the market is now available in New Zealand.
The 55lb thrust Haswing Cayman Bow Mount comes complete with GPS and, using the company's clever Helmsman App, gives skippers complete wireless control over such advanced functions such as Jog and Spot Lock, Record and Re-track and Return To from their Android or IOS device.
Suitable for boats up to 1250kgs and backed by an impressive 30-month warranty, the Haswing Cayman B is specifically designed for use in both salt and fresh water. With encapsulated electronics and a sacrificial anode it also boasts excellent corrosion resistance.
Aimed at serious fishers, the Cayman B offers skippers the ability to move their vessel at variable speeds in a given direction, using either the supplied wireless remote or an optional foot controller. When connected to the Helmsman App, which is available for any IOS or Android device, the Cayman B delivers unrivalled versatility with advanced wireless features such as the popular Anchor function, jog and cruise control.
When using the App's Navigation function, skippers can enjoy accurate waypoint navigation thanks to its integral high quality GPS receiver using online maps. With Cruise Control, the motor will deliver efficient sailing or trolling at a set sped, even in bad weather. The Record Route function enables skippers to re-use previous routes on future trips and with the popular Anchor function they can simply push a button to hold their vessel over an enticing fishing or dive spot.
The feature packed Haswing Cayman B Bow Mount trolling motor comes standard with a wireless hand control, sacrificial anode and encapsulated electronics as well as an LED battery meter, a 1.5 metre wiring loom and all the necessary stainless steel nuts and bolts to fit straight onto the boat.
Additional options include a wired foot controller and a quick release plate with a footprint of just 120mm x 200mm when not in use.
The new Haswing Cayman B Bow Mount trolling motor is now available through Lusty & Blundell's nationwide network of leading marine dealers.