Home

/

Ocean Signal's rugged new SafeSea Pro also the world's most compact EPIRB
Ocean Signal's rugged new SafeSea Pro also the world's most compact EPIRB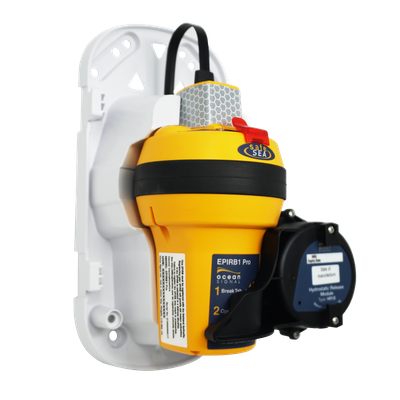 The world's most compact "float-free" Emergency Position Indicating Radio Beacon, Ocean Signal's SafeSea EPIRB1 Pro, is also one of the most rugged, making it ideal for use on all pleasure boats, commercial and fishing vessels.
It is designed for maximum efficiency and boasts a 10-year battery life as well as a superior operating life when activated. This ensures the SafeSea EPIRB1 Pro keeps updating a distressed recreational or commercial vessel's location to rescue services for longer, creating and maintaining this essential link to emergency services.
Despite a 30% smaller footprint than most float-free EPIRBs, the SafeSea EPIRB1 Pro is packed full of powerful, practical features. These include a state of the art 66 channel GPS receiver for fast and accurate position acquisition, an Automatic Release Housing bracket with hydrostatic release, and intuitive operating controls to protect against accidental activation.
Designed to release automatically from the Category 1 Auto Deploy Bracket once submerged in water, the SafeSea EPIRB1 Pro floats free from a sinking vessel and, when floating on the surface, transmits the boat's distress message, alerting rescue authorities.
The SafeSea EPIRB1 Pro operates in the 406MHz satellite band, where the international distress frequencies are constantly monitored by Cospas-Sarsat, the international search and rescue satellite operator, ensuring a rapid response anywhere it is in the world. It also comes complete with a 121.5MHz homing beacon (to help rescue services close-in on the location of a vessel in distress) and a high brightness LED strobe light for additional identification, especially at night.
The SafeSea EPIRB1 Pro's Automatic Release Housing (ARH) comes with a convenient adapter making it easy to install in existing vessels using the same mounting holes previously used for older and larger EPIRBs, including the Ocean Signal E100 and E100G.
Ocean Signal's SafeSea EPIRB1 Pro is now available nationwide through both New Zealand distributor Lusty and Blundell's three showrooms in Auckland, Whangarei and Tauranga and their nationwide network of leading marine dealers.