Stunning 36% less power draw makes new Electroscan 4G ideal for all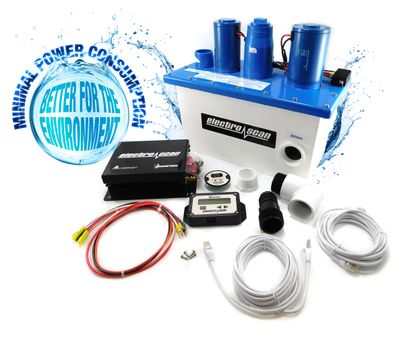 Electroscan's stunning new 4th generation waste treatment systems use an incredible 36% less power than their popular predecessors, making them ideal for use on a much wider range of vessels.
Once the domain of medium to large yachts and motorboats, new 4G Electroscan draws no more current than an electric toilet. With just a 1amp/hour draw per treatment cycle, it can be used on sail boats and launches, and on trailer boats with electric or manual toilets, particularly those moored or stored in dry stacks.
The most widely used waste treatment system on the market today, Electroscan systems are environmentally friendly and generate their own natural disinfectant from saltwater without the need to add any harmful chemicals. Electroscan's unique treatment system ensures each flush is treated on board and then discharged. This means there is no need for space-wasting holding tanks and the amount of sewage held on board is massively reduced.
Because Electroscan is recognised in the New Zealand Resource Management (Marine Pollution) Regulations as grade B treated sewage, boats fitted with an Electroscan system can safely use their toilets anywhere other than within 500m of a marine farm or mataitai reserve.
"This is a great advantage for owners of the increasingly popular mid-size or larger trailer boats which are set up for overnighting," says Grant Matthew of Electroscan's New Zealand distributor Lusty & Blundell. "They can now overnight in their favourite bay or fish close into the rocks and have full use of their facilities without having to fit a bulky holding tank or, for those without one, having to up anchor and move out to sea before using the toilet."
The new 4G Electroscan toilet systems are simple to use, with a single one-step operation activating both the toilet and the treatment system. They are very low maintenance and come complete with new stylish new LCD control panels that provide detailed user information and helpful diagnostics.
The new 4G Electroscan waste treatment systems are now available nationwide through both New Zealand distributor Lusty and Blundell's three showrooms in Auckland, Whangarei and Tauranga and their nationwide network of leading marine dealers.