L&B spearheading a greener approach to waste treatment on board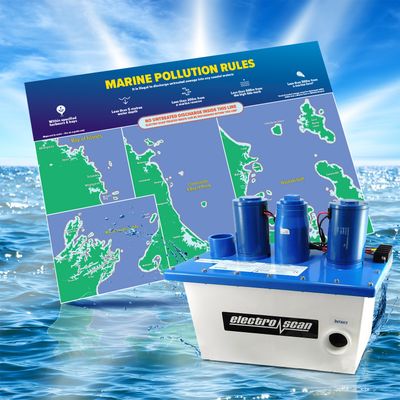 Lusty & Blundell is encouraging boaties and fishers to understand their impact on the environment and minimise it, especially about the rules relating to the discharge of untreated sewage.
"Boaties often tell us that they are not sure exactly what the rules are or where they are allowed to discharge waste," says L&B's Grant Matthew.
To provide clarity, L&B approached regional councils in the country's most popular boating areas: the Hauraki Gulf; Coromandel and the Bay of Plenty; the Bay of Islands and the Marlborough Sounds.
"We were hoping that they would have some basic charts showing the no-discharge areas in their regions, combined with a list of the key rules," he says.
"Unfortunately, they didn't, and, although they thought it was a great idea, admitted it would take a long time to develop."
With summer fast approaching and the start of the America's Cup regatta just a couple of months away, the company decided they would do it themselves.
The result is an easy to understand graphic, which is available to download from the L&B website (www.lusty-blundell.co.nz) and from key stockists around the country.
The handy graphic, easy for boaties to refer to while on board, clearly shows that it is prohibited to discharge untreated sewage anywhere close to shore, and lists the key marine pollution rules.
"The Marine Pollution Rules specifically forbid untreated sewage being discharged closer than 500m from the high water mark, in less than 5m of water or anywhere within a large number of popular harbours and bays," says Grant Matthew. "Untreated sewage can also not be discharged within 200m of any marine reserve or within 500m of a marine farm."
He says one of the main reasons why the company took on the Electro Scan agency — and why they spend so much of their time educating fellow boaties and fishers — is that virtually all of the L&B crew are keen boaties and fishers, too.
"We all want our seas and waterways to be as clean and as unpolluted as they possibly can be."
Electro Scan uses energised electrodes to create an electrical field and convert salt water into hypochlorous acid, a powerful bactericide. At just 1 amp hour per flush, it uses 36% less power than previously and is suitable for all sailboats, launches and trailer boats with electric or manual toilets, particularly those moored or stored in dry stacks.
As a result, Electro Scan-treated waste can legally be discharged anywhere other than within 500m of a marine farm or Mataitai Reserve.
Product and dealer information is available from Lusty & Blundell on (09) 415-8303 or at www.lusty-blundell.co.nz.