Scanstrut's ROKK Wireless chargers very fast, super stylish and ultra-safe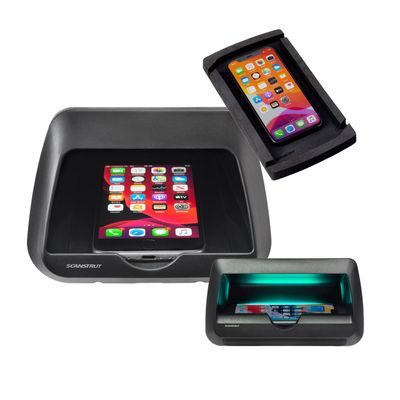 Scanstrut's new range of ROKK Wireless chargers are ideal for boats of any size. Delivering fast charging in extremely stylish compartments they enable boaties to keep their phones in a safe handy place, in easy sight, fully charged and ready to go.
ROKK Wireless chargers are available in three models: Nest, Cove and Catch. Nest and Cove are, as their names suggest, charging pockets ideal for installation in a bulkhead or dash while Catch is a charging pad designed to be positioned on a relatively flat surface.
Although both the Nest and the Catch are currently available in both 5w and 10w versions, the 10w models are far more popular. They are able to charge around 60% faster than their less powerful counterparts and have been specifically designed for the latest generation of power-hungry devices and apps.
All ROKK Wireless chargers are waterproof to IPX6, are Qi Certified and feature a large charging area for easier phone alignment.
The Nest comes with a super grippy mat to stop the phone sliding around and a front lip, complete with an easy access thumb bevel, to act as a safety barrier, making sure the phone stays safely inside. On the Cove models, the internal grippy mat is complemented by a rubberized front lip and an easy access thumb bevel to act as a safety barrier. The Catch's cleverly designed edging bumpers stops the phone from sliding out and enables the mat to "catch" the phone from any angle!
The Cove models feature a front panel with passive air vents, encouraging cool air into the pocket and through rubber cooling channels. This keeps the phone cooler for longer and ensures the most efficient outdoor wireless charging possible.
The Cove LED 10W also features Scanstrut's waterproof LED RGB lights, allowing owners to connect to any RGB control system and seamlessly match it to other onboard lighting (such as speakers, deck lights and underwater lighting). The LED lighting is also fully dimmable so owners can alter the light levels to match their mood and create the ambience they desire: from a relaxing soft glow to a strobing party boat!
All ROKK Wireless chargers feature rounded corners and a tapered design to minimise snagging, can be safely washed down with the rest of the boat and are incredibly simple to install.
The full range of Scanstruct's ROKK Wireless chargers are now available nationwide through Lusty & Blundell's network of leading marine dealers and through L&B's three showrooms In Whangarei, Albany and Tauranga.
Product and dealer information is available from Lusty and Blundell on (09) 415-8303 or at www.lusty-blundell.co.nz.