Home

/

New Raymarine wireless gateway opens possibilities for racing & cruising sailors
New Raymarine wireless gateway opens possibilities for racing & cruising sailors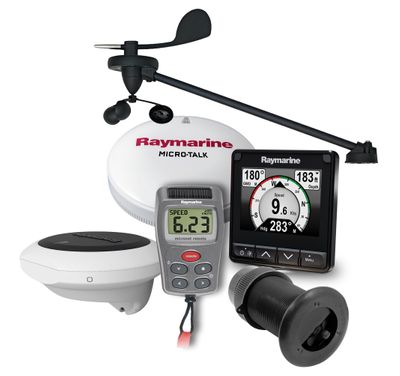 Raymarine's new i60 Wireless Wind transducer provides high levels of accuracy and is easy to both install and retrofit on existing vessels.
The new i60 Wireless Wind offers improved response times and greater accuracy than conventional wired transducers. Its rugged reliability is combined with less weight aloft while the wireless remote enables skipper and crew to view yacht and even race data anywhere on board.
When combined with a Raymarine EV1 9 Axis heading sensor, the new i60 Wireless Wind will also provide "air flow corrections"; using Raymarine's patented algorithms to automatically compensate for wind speed and direction,eliminating inaccuracy from the sail updraft and mast heel angle caused by pitch and yaw.
The i60 Wireless Wind, which is super-easy to retro-fit as no mast cable is required (especially useful when mast cabling conduits are already full), comes with Raymarine's new Micro-Talk Wireless Performance Sailing Gateway. Thisseamlessly combines both wired and wireless instrument systems (including sensors such as Raymarine wireless Mast Rotation Sensor) to deliver better-than-ever high performance wind monitoring.
Both the i60 Wireless Wind and the Micro-Talk Wireless Performance Sailing Gateway work incredibly well with the LightHouse II operating system for Raymarine Multi Function Displays (MFDs) with their Advanced Sail Features and Grib View global weather app.
Raymarine's new i60 Wireless Wind and Micro-Talk Wireless Performance Sailing Gateway will be available through Lusty and Blundell's nationwide network of leading marine dealers.
Product and dealer information is available from Lusty and Blundell on (09) 415-8303 or at www.lusty-blundell.co.nz.