Home

/

Hella Marine DuraLED Multi-flash Signal Lamps
Hella Marine DuraLED Multi-flash Signal Lamps
Hella DuraLED Multi-flash multi-purpose signal lamps are robust with 10 programmable flash modes and the ability to be synchronised to flash alternately or in unison.
Each lamp is a completely sealed unit to IP67. Proven design, precision engineering and the use of high impact acrylic materials ensure superior resistance to water, impact, UV and wear and tear.

Advanced MultivoltTM circuitry provides reliable illumination across a range of DC inputs from 9-33 volts even during low battery voltages and voltage drop over long cable runs. Multi-volt 12/24V.
DuraLED® Lifetime Warranty: All HELLA DuraLED® products carry a Lifetime Warranty.
NOTE: Lifetime means the economic life of the vehicle these products were first installed on.
Mounting: Two hole surface mount with mounting bushes supplied.
Voltage: Multivolt™ for optimum brightness at input voltages from 9 to 33 volts.
Power Consumption: 9W continuous (less in flashing modes).
Protection
Reverse polarity and 5000 watt Transient Voltage Suppressor (TVS)
IP 6K6 (Protection against dust and high pressure water jets)
IP 6K7 (Protection against dust and temporary water immersion)
Cable Length: Pre-wired with 2.5m of sheathed multi-core cable.
Lens Material: PMMA
NOTE: These lamps are not ECE compliant.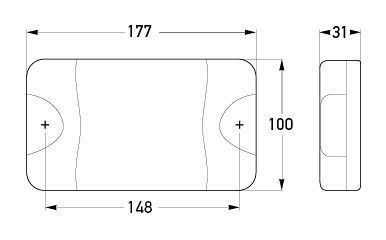 All dimension in mm.